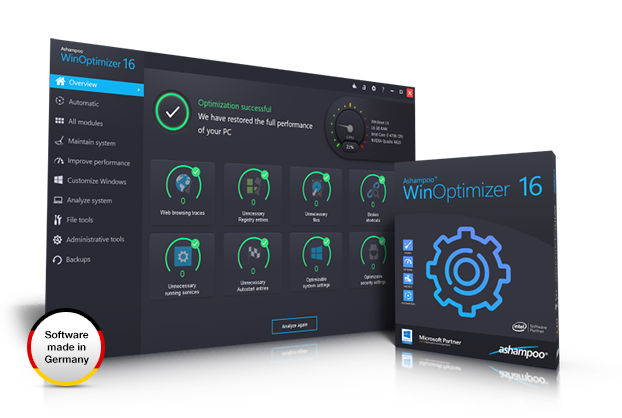 Ashampoo® WinOptimizer 16
Only Ashampoo® WinOptimizer 16 completes your PC!
Over time, even modern systems slow down or become faulty and cluttered with junk files. Especially Windows 10 collects more data than its users would like. Ashampoo® WinOptimizer 16 takes care of these issues – with unparalleled speed and efficiency. It doesn't take any prior knowledge or lots of time and your computer will feel like new again! Let WinOptimizer help you make the most of your PC and protect, clean and optimize your machine for maximum performance and privacy every time.
Ashampoo® Snap 10
Capture and edit any screen content
There's no easier way to create screenshots and videos than using Ashampoo® Snap 10. Capture and edit anything you see on your screen.
Ashampoo® Photo Optimizer 7
Brilliant photos in just one click!
Ashampoo® Photo Optimizer 7 revitalizes your photos at the click of a button! Optimize colors and contrasts for single photos or entire collections in just a few clicks. The program analyzes photos in depth and automatically eliminates visual defects. There's also room for fine-tuning: straighten slanted image horizons, watermark your images or apply various artistic effects. Minor blemishes like red eyes, skin imperfections or stains are also easily removable and the easy to use interface saves you time and nerves on your way to stunning results!
Ashampoo® Music Studio 7
Everything your songs need!
Ashampoo® Music Studio 7 is the complete solution for your music and audio files. Record, rip, burn, cut, convert and mix your songs. Organize your music collection, create playlists, design and print covers – perfect results are always just a few clicks away! Enjoy your songs on any device in any place whether it's your PC, smartphone, MP3 player or car!